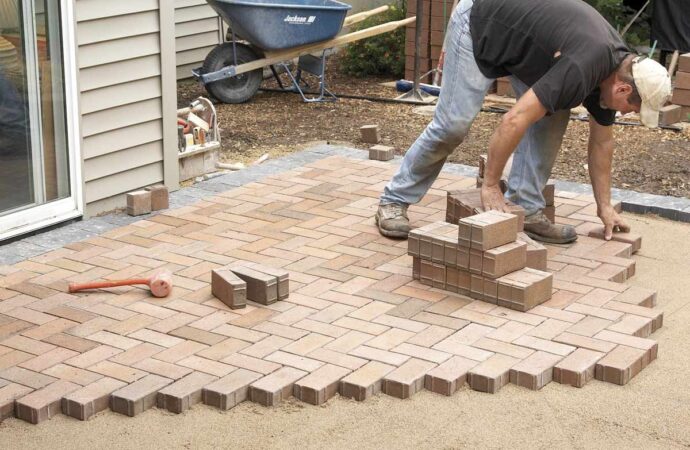 There are so many things to keep in mind when you have a property that sometimes keeping a track of everything is almost impossible.
We've all been there and I know how hard is to remodel, design, or build a property, either residential or commercial, so you can be sure that I understand why you're having so many headaches and that you're having a hard time deciding what to do when it comes to your indoors but most importantly, with your outdoors.
Now, if you are in Arlington just like me, I have a few recommendations for you.
You should really put some attention to your paving. Many people underestimate how important and attractive it is to make sure that the driveways and walkways look good and don't give people problems while walking or entering a car.
Besides, good paving can make your property look much better and the best part is that it isn't that expensive and you have many options.
What you need to keep in mind is that pavers need to be installed carefully, otherwise, they will look awful and you will have to remove them in order to install a new one again. You don't want to spend that much time, money, and effort, right?
Therefore, make sure that if you're going for this option, you employ a top company in Arlington or in your area that can guarantee you good results and also make sure that your pavers go well with the rest of your outdoor area.
Arlington Landscape Designs & Outdoor Living Areas is a top company in the city that has the best professionals who can install the best pavers for you. As a company, we have many options and materials for you to choose from and we know that picking only one is very difficult, so we want you to access our professionals who can also help you to make the right decision.
Always keep something in mind: choose one that you like and also combines well with your entire property, residential or commercial, it doesn't matter.
Do you want us to take care of this task for you? Make sure to contact us, we are waiting for a call or an email. You're also welcome to request a free quotation via our website and feel free to visit our offices or request an appointment as well. We would love to help you with your paving.
As Arlington Landscape designs & outdoor living areas, we give priority to our clients. As a result, we offer them the best services in the best way we can. The services listed above are just but some of the services we provide to our clients in Arlington. If you need any of these services to reach out to us and we shall send a team to you to help you out. Here are the services that you will get from our company.
There are so many areas or regions where we offer these services with most of them being cities. However, if you need any of these services, you need to contact us. The list below comprises the areas where we offer these services.
Feel free to place your order and receive your free quotation now!