Outdoor Kitchen Design & Installation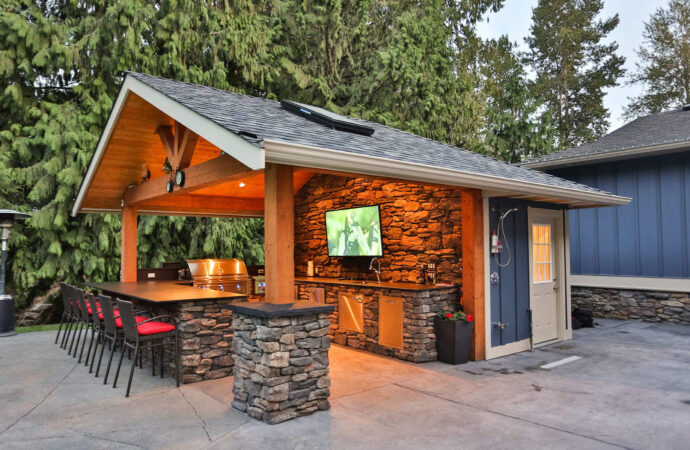 Spending time at home is something we all love at some point. What I'm trying to say is that we not always want to spend the entire day inside of our house or indoors; for example, fresh air can be a good option, but at the same time, we don't want to go for a walk or to a certain place. Yes, we are complicated.
Now, when you have an outdoor area that is perfect to spend some time, you don't have to worry about going somewhere.
Ok, before we continue with the idea, let me tell you something so you can understand better my point.
We usually spend time indoors because we have to and not always because we want. For example, when you have to cook there are almost zero option of spending time outdoors with the rest or your family while they have fun and you don't. This is a situation where you have to stay inside. Now, it isn't impossible to solve.
If you want to spend time outdoors with your family and friends or maybe just change the typical area in your property where you spend your time, you can install an outdoor kitchen that will allow you to do everything outdoors.
If you like the idea and now you're planning to have one, keep in mind that installing an outdoor kitchen can be a lot of work and the design is always essential. A well-designed kitchen will allow you to do anything, but if you have something far from that, you will have to deal with a mess.
Therefore, don't try to "save" money buying the materials and designing them yourself. You will end up employing a professional anyway and he or she will have to fix your mess, which means extra money and time.
Instead, employ a company from the beginning that has good professionals and can guarantee you a well-installed kitchen.
Arlington Landscape Designs & Outdoor Living Areas is one of the best companies in Arlington and if you want the best results, you shouldn't consider anyone else.
Our professionals are well trained, experienced, and equipped, so thanks to them we guarantee you the best outdoor kitchen design and installation. If you want us to work in your outdoor area, make sure to contact us now. Give us a call or feel free to request a free quotation via our website or email.
As Arlington Landscape designs & outdoor living areas, we give priority to our clients. As a result, we offer them the best services in the best way we can. The services listed above are just but some of the services we provide to our clients in Arlington. If you need any of these services to reach out to us and we shall send a team to you to help you out. Here are the services that you will get from our company.
There are so many areas or regions where we offer these services with most of them being cities. However, if you need any of these services, you need to contact us. The list below comprises the areas where we offer these services.
Feel free to place your order and receive your free quotation now!