Draigane Systems & Sprinkler Services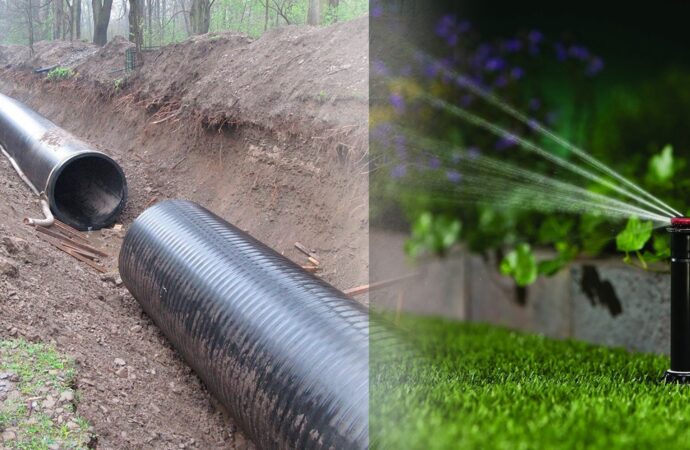 Alright, if there's something you shouldn't forget about your outdoor areas is that they need a drainage system, or are you trying to drown yourself in the water? Although that's quite impossible in this case.
Most people pay too much attention to the features that make their outdoors look more attractive that as a consequence or result, they forget about the essential and important ones. A drainage system is among the important features.
If you don't have one, what are you gonna do? That's quite the question, right?
When it comes to drainage systems, we also have to talk about sprinklers, which are being installed everywhere nowadays and you shouldn't fall behind. They are very useful for patios and outdoor areas in general since they allow you to take care of them without having to spend too much time doing it personally.
Now, drainage complements the sprinkler, so make sure that if you're installing sprinklers, you have a good drainage system installed.
Installing both features takes time and needs to be carefully done. You don't want a mess on your property, do you? I know, it's a lot to process, but what you need to keep in mind is that by having this system you will be able to relax and worry less about your outdoors, the same goes with the sprinklers.
Therefore, make sure to contact a company or professional who can go to your property, either residential or commercial, and install it for you. If you already have sprinklers, make sure that it also offers services for them.
Arlington is full of companies dedicated to outdoor living services, but if you want the best results and professionals working on your property, consider Arlington Landscape Designs & Outdoor Living Areas.
Our company has the best professionals in the area and guarantees the best results if you entrust us with these tasks. We can install the drainage system for you and also take care of your sprinklers. We have worked in this field for many years and thanks to our experience, expect only the best results.
We know how hard is to maintain an outdoor area, so we want to make sure that we are doing it properly for you and allow you to worry less about it.
Contact us now via phone or email. Feel free to visit our offices as well or request a quotation via our website.
As Arlington Landscape designs & outdoor living areas, we give priority to our clients. As a result, we offer them the best services in the best way we can. The services listed above are just but some of the services we provide to our clients in Arlington. If you need any of these services to reach out to us and we shall send a team to you to help you out. Here are the services that you will get from our company.
There are so many areas or regions where we offer these services with most of them being cities. However, if you need any of these services, you need to contact us. The list below comprises the areas where we offer these services.
Feel free to place your order and receive your free quotation now!